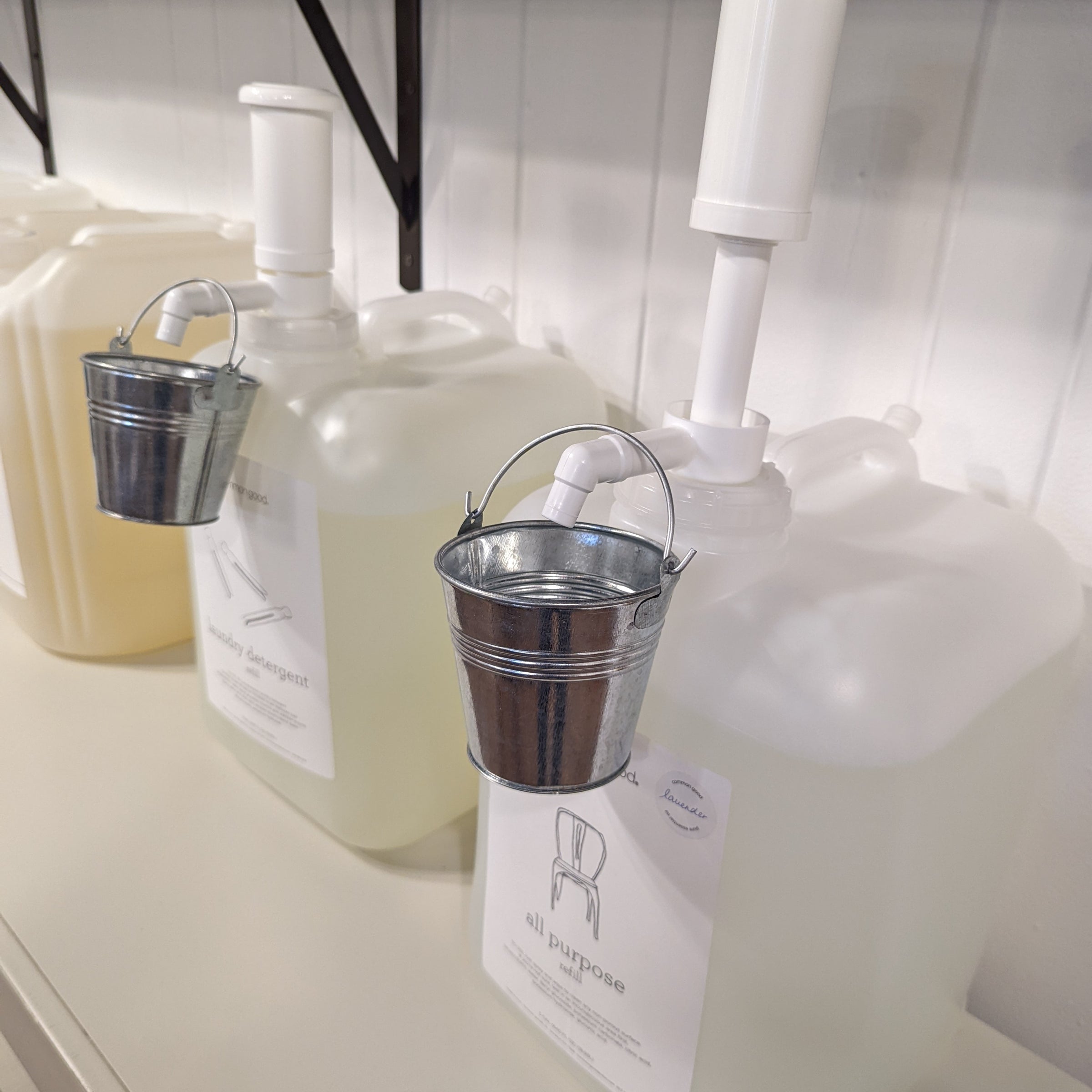 bring in your own container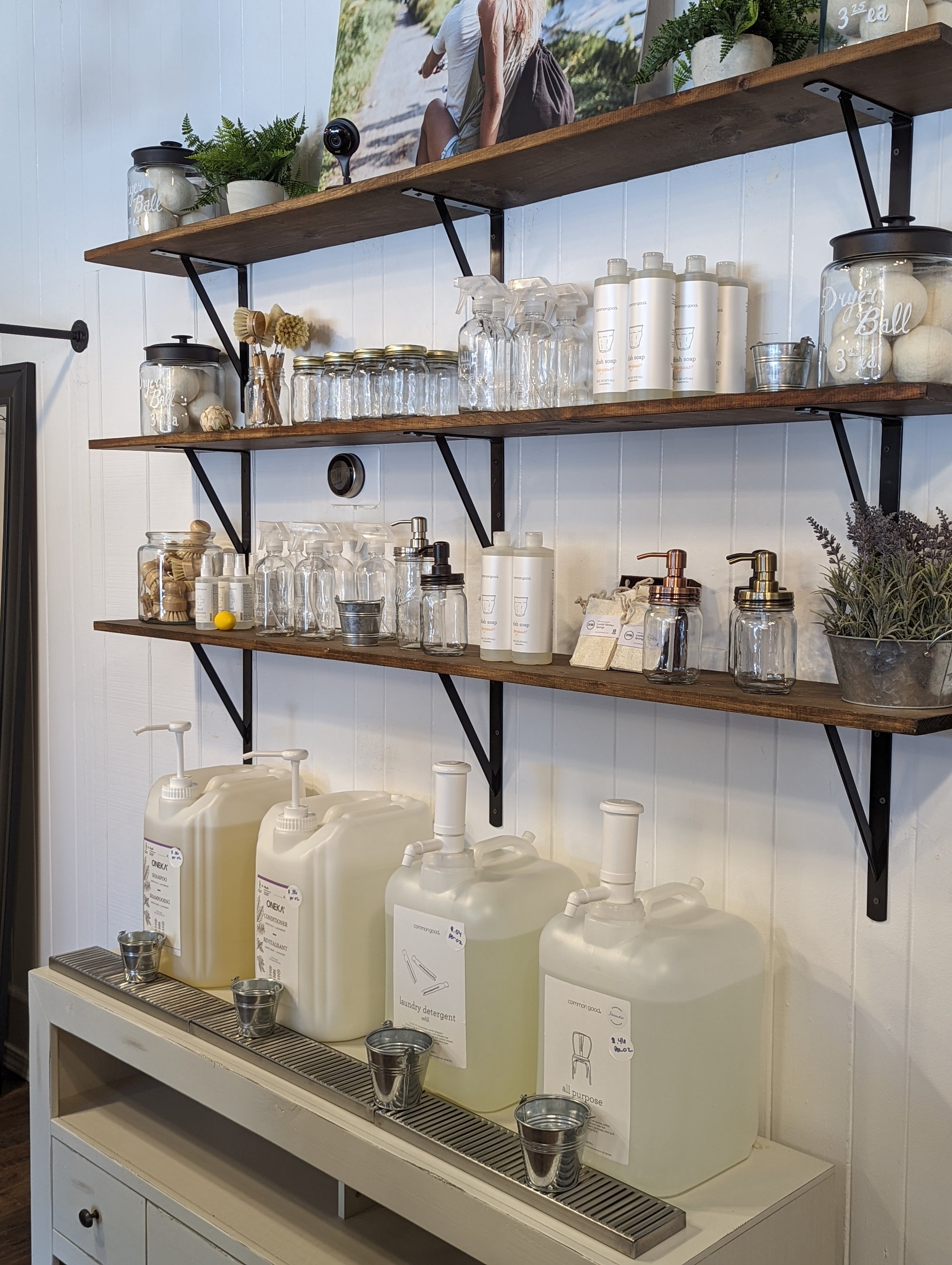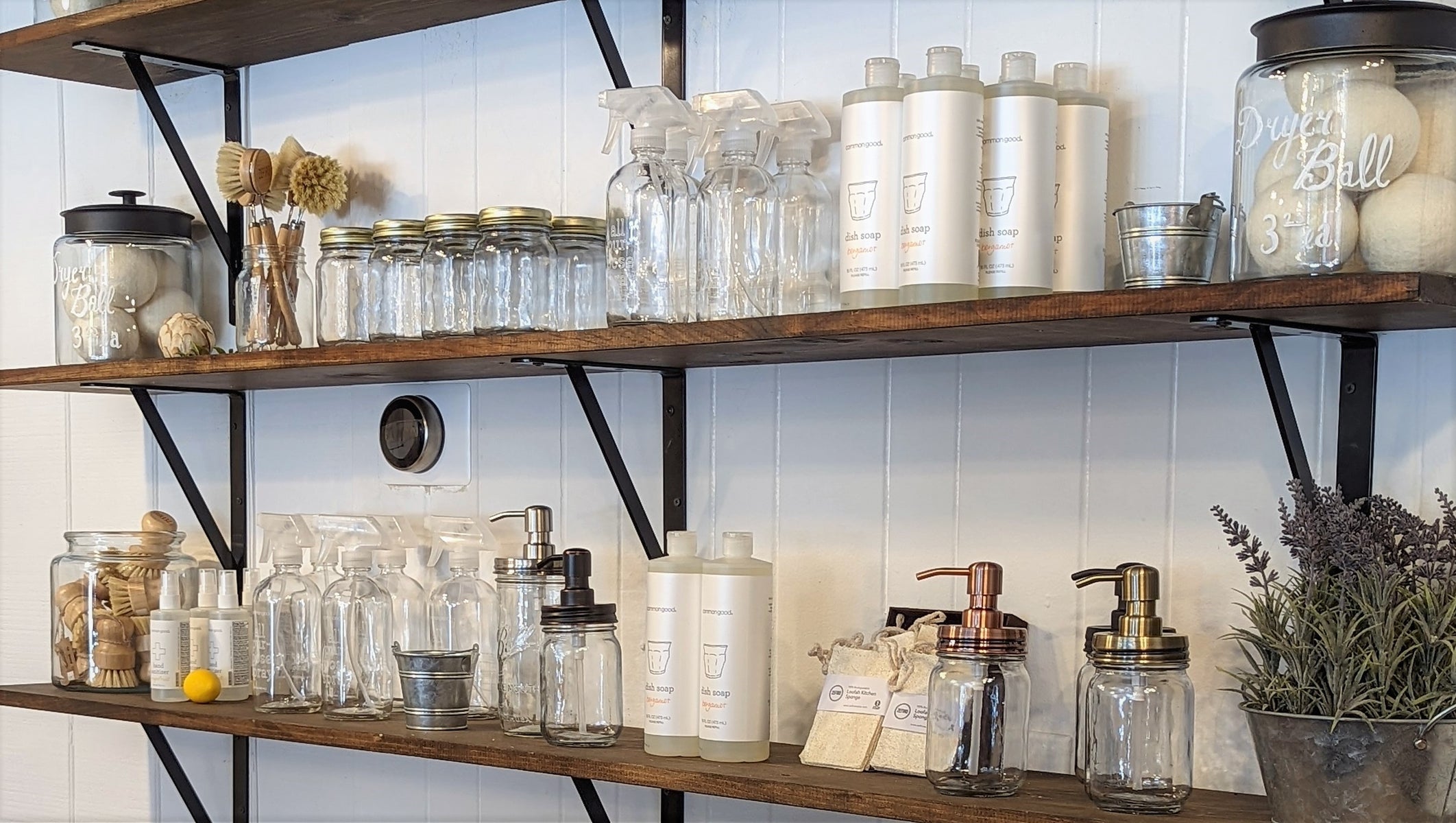 Rethink | Repurpose | Reuse
Our New refill station
Reuse | Refill | Recycle
We are progressing toward a brighter cleaner future at Mossy Creek Natural, doing our part to not add more to the county landfill by offering eco friendly products for refill in our local shop.
We are now offering these refillable products, with more coming soon: All Purpose Cleaning Spray, Laundry Detergent, Shampoo, Conditioner, Hand Santizer, Dishwashing Liquid, Dryer Balls, Castile Liqud Soap, All Natural Hand & Body Liquid Soap
This is an in-store shop by the ounce program. It is a way for you to reuse your single use containers. Bring in any clean dry container to refill with our eco friendly products.
Bring your own clean, dry container or purchase one of ours to fill. (If you have purchased from us before, simply reuse the container you purchased from us. Its best to reuse containers with the same product you are refilling.)
Fill with our products
Weigh your container with the refilled product
Check out
You can bring in any kind of single use container. Glass containers are perfect because they can be put through the dishwasher and cleaned properly.
We love mason jars. They are easily cleaned and can be repurposed. We also sell pumps that fit perfectly on top of mason jars.
If you do not have your own, we have plenty to purchase in the store.
Clean containers help prevent contamination and protect the contents of your products.
Empty your container, rise well
Scrub the container with hot soapy water, rinse well or run it through the dishwasher.
Cleaning pumps Squirt soapy water through pump and follow by a clean rinse. Let air dry.
Glass Ball Jars Run through the dishwasher or sterlize them by boiling them in a stock pot for about 15 mins and let air dry. Similar to what you would do for your jars when you are prepping to can.
Soak You can also soak them in hydrogen peroxide (3%) for about 10-15 minutes, rinse well and then air dry,
Castile soap is a great all-around olive oil only liquid soap. 100% natural, nontoxic, and gentle.
It's not only environmentally friendly but also incredibly useful and effective for certain cleaning purposes. You can find simple to use recipes below to help you keep your home non-toxic and healthy.
Floor Cleaner= 1 tsp 2 cups water
Dish Soap= 1 part soap to 10 parts of water
Veggie Rinse= 1 drop of unscented soap to large water bowl
Natural Deodorant= 1/2 teaspoon of castile soap and 1 teaspoon of sea salt to a small spray bottle and use in the underarm area as needed.
Window Cleaner= 1 tbsp Soap to 1 quart of water to spray bottle, then rinse with soda water.
Toilet Bowl Cleaner= 1 cup to 4 cups water to spray bottle
Pet Wash= Use the unscented version
Plants to deter bugs= 1 tbsp to 1 quart of water

The Laundry Detergent by Common Goods Co is a Triple 3x concentrated formula so you use less per load, their formula is specially designed for High-Efficiency machines (HE). That means it's concentrated and has a low foam profile.
Using a standard or HE washing machine, use 1/8 cup for regular loads and 1/4 cup for large or very soiled loads.
Ingredients: Water, decyl glucoside, sodium cocoamphoacetate, lauramine oxide, lactic acid, sodium benzoate, sodium gluconate, sodium citrate, tetrasodium glutamate diacetate, amylase enzyme, lipase enzyme, essential oil.
Currently, we are offering brand named eco friendly products from Common Goods Inc and ONEKA Hair Care Products along with our bath body products.
Brands We Carry